Ireland's biggest young female site SHEmazing.net reveals shocking new research highlighting the prevalence of 'Dating Abuse' amongst its audience of predominately 18 -35 year old women. With over 1,000 women taking part in the first survey looking at this issue in over 10-years, SHEmazing girls reveal that over one in three of them have experienced some form of dating abuse within their intimate relationships. Most worrying however is that almost two-thirds of victims believe the abuse to be in some way their fault.
The stark reality of these statistics will not shock many it appears, since over half (55%) of respondents claim to know other young women within their social circles that have fallen victim to some form of dating or domestic abuse. The most common forms of abuse experienced by these young women include:
• Emotional or psychological abuse (89%)
• Verbal abuse (67%)
• Physical abuse (50%)
• Cyber (24%)
• Stalking (15%)
Unfortunately dating abuse is one issue that is not being discussed at a national level, and as such there is little or no legislation to protect victims. With dating abuse, victims do not live with their partners and therefore are not entitled to protection under current domestic violence legislation. Additionally incidents of stalking, online or otherwise, are difficult to prove under the definition of harassment in Section 10 of the Non-Fatal Offences Against the Person Act 1997.
SHEmazing is now imploring the new Government to examine this critical issue and provide the young women of Ireland with the legal protection and support services they deserve. The National Women's Aid support services have had their funding repeatedly cut in recent years, yet they provide vital confidential services to victims of dating and domestic abuse.
To raise awareness of the issue of 'Dating Abuse' and funds for Women's Aid, SHEmazing! will host a music gig in The Sugar Club on Wednesday 6th July with the hashtag #itsNOTyourfault
 Tickets go ON SALE TODAY. Click here to purchase tickets to the Gig
 Róisín O will headline the gig with more 'Special Guests' to be announced soon
 Early Bird tickets €19 / Full price tickets €29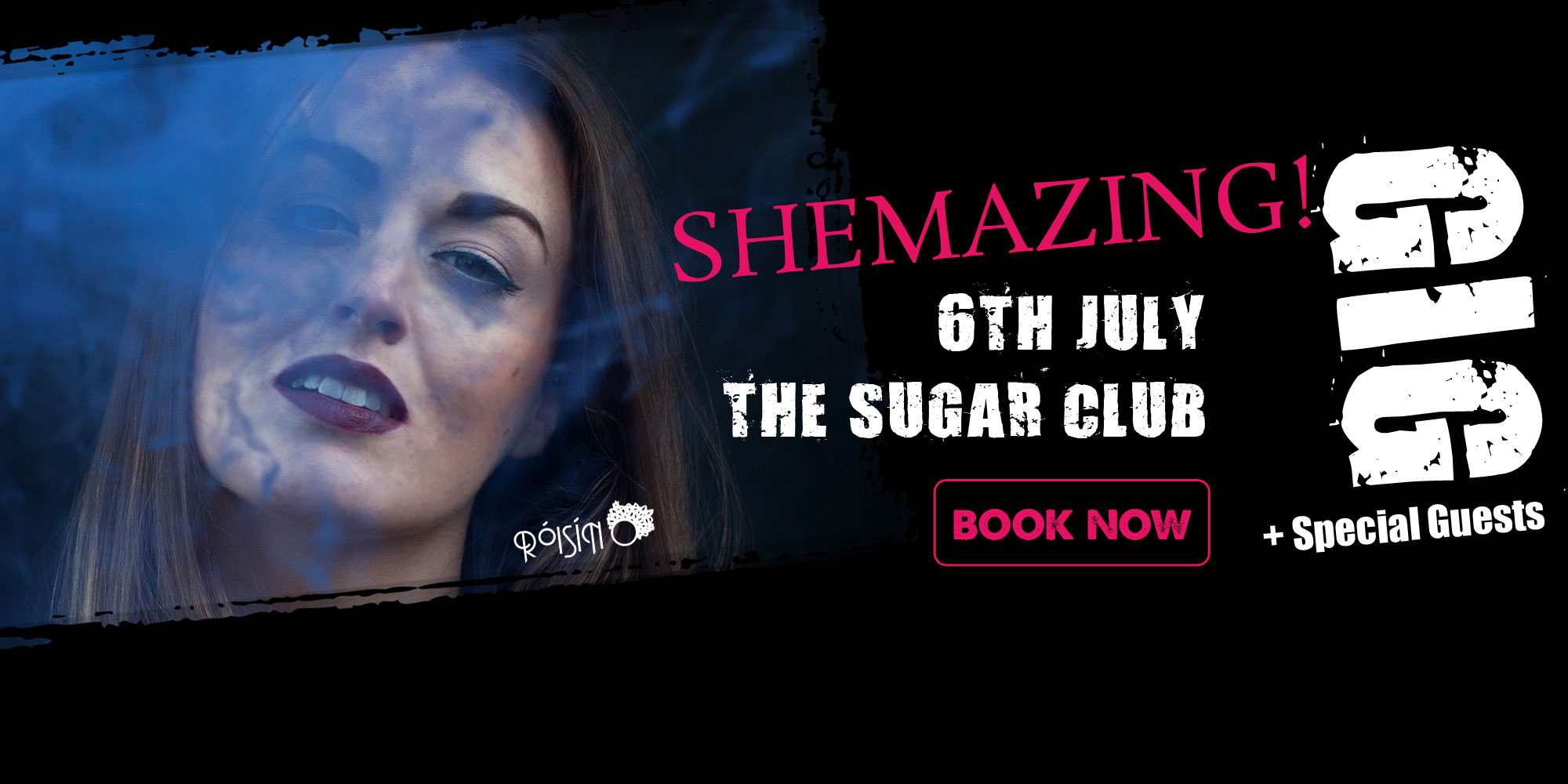 According to Gillian Fitzpatrick, editor of SHEmazing! "Dating abuse is not being talked about therefore it is not being recognised by young women in relationships as unacceptable behaviour. Not only do incidents of dating abuse affect the mental health and future relationships of young women but in extreme cases it can lead to accidental or intentional death through physical abuse and suicide for those who see no way out. To fully protect young women from dating abuse, we are urging the new Government to recognise that dating abuse is on the increase and current legislation for domestic abuse needs to be extended to make safety orders available to these victims. We need to extend protection to younger women in dating relationships that are not covered by domestic violence legislation just because they have never lived with their boyfriend."
According to Linda Smith of Women's Aid and its dating abuse dedicated advice site 2iN2U.ie "Dating abuse is a significant issue for our frontline support services. Research has shown that while young women can be at even higher risk of abuse in a relationship than their older counterparts, there is low recognition of controlling and coercive relationship behaviour among young women. The 2iN2U.ie website is designed to help young women know the difference between safe and sinister behaviour in intimate relationships and offer support to those experiencing dating abuse."
Other key highlights from the research in Dating Abuse include:
• 78% forgave their partner after the first incident of abuse
• 69% of victims chose to stay with their partner despite ongoing emotional or physical abuse:
o Love (72%)
o Made excuses for their behaviour (70%)
o Embarrassment and shame (37%)
o Children (34%)
o Financial reasons (22%)
o Too frightened of further repercussions (15%)
• For 88% of respondents the abuse suffered was part of a series of ongoing incidents of dating or domestic abuse
• 78% have suffered long-term negative side effects including feelings of anger, fear, lowered self-esteem, depression, anxiety, shame and guilt
• 93% of victims admit to turning to self-harm in various forms to escape their reality:
o Overeating (65%)
o Alcohol (45%)
o Cigarettes (31%)
o Illegal drugs (6%),
o Prescription drugs (3%)
o Excessive exercise (11%)
o Excessive dieting (17%)
o Promiscuity (11%)
International research shows that women aged between 16 and 19 years are at the highest risk of dating / domestic violence, stalking and sexual assault (12.7 per cent, 8.5 per cent, and 7.9 per cent respectively). The last national survey on domestic abuse, conducted over 10- years ago by the Crime Council & ESRI in 2005, revealed that where there is severe abuse in intimate relationships, in almost 60% of cases it was experienced for the first time under the age of 25 years.