MummyPages.ie, Ireland's leading online parenting community launched the country's most comprehensive all-island research report offering key insights into the issues facing parents of Primary School children as the countdown to Back-to-School time begins.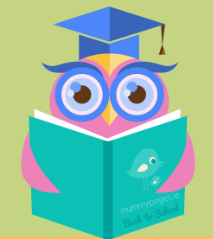 Laura Haugh, Mum-in-Residence for MummyPages.ie believes that more can be done by schools and the Government to help parents better cope with the costs associated with their children's school days;
"Almost two-thirds of our mums find back-to-school costs expensive. The main costs are school books, school uniforms and of course the voluntary contribution per child. Feedback from our mums suggests that the school management teams and the Government could do more".
"64% of mums reported that their school has adopted a school rental scheme to help with the expense associated with text books. However this rental scheme is only adopted for a small number of books with frequent curriculum changes. Average costs of up to €188 per child will start clocking up this August for mums and dads across the country."
"Unfortunately Government efforts to encourage schools to adopt a plain uniform policy earlier this year have not been successful, with only half of parents reportedly receiving a survey to influence the board of management in their school. As a result the issue of overpriced branded uniforms continues for the coming school year and value uniforms in Aldi, Tesco and Dunnes can only be availed of by a third of the MummyPages mums we surveyed. These cost effective uniforms combined with a simple iron-on crest as reported by one school in Cork would go a long way to easing the financial burden on parents at this key back-to-school time."
"The summer is an expensive time for parents who may have to enrol their children in camps in order to meet their work responsibilities. Many families struggle to meet back-to-school costs during this financially challenging time. Any increase by the Government to the children's allowance payment in August would really help parents to cope with the expense."
Full 'Back-to-School' Report Findings:
1. Cost of Education
63% of mums find primary school expensive with 51% of mums having experienced financial difficulty in putting their child through school in the last year.
The average back-to-school text book and stationery spend is €75 for 58% of mums and €188 for 40% of mums, with the older primary school children requiring a greater amount of books.
74% of mums report that their child's primary school has or is currently introducing a book rental scheme for some of the curriculum textbooks to ease the financial pressure on parents.
52% of mums spend an average of €196 on school uniforms for the school year.
88% of parents think their uniform is unnecessarily expensive with only 33% of mums able to buy a generic school uniform. 67% of mums are unhappy at being restricted to buying their child's uniform through the school itself or a nominated specialist store.
72% of mums pay an annual voluntary contribution of €100 to the school, with the remaining mums paying more than this.
65% of mums spend up to €400 per year on after school activities with 56% of mums having had to cut back on their child's after school activities due to financial constraints in the last year.
56% of parents pay for the costs associated with their child's primary schooling through their salary, with 36% using the children's allowance, while 8% are forced to dip into their savings and credit cards.
2. Choice and Performance of School
88% of mums are happy with the primary school choices in or near their family home.
84% of mums are sending their children to state primary schools, 11% attend Gaelscoile, 4% are in multi-denominational schools, with less than 1% in private primary school.
Academic performance is not as important as proximity to the family home when mum makes primary school choice. 59% of parents choose their child's primary school based on its proximity to their family home, 20% on the school's academic performance, and 5% because it guarantees them a space at their desired secondary school. Just 1% chose their child's national school based on its sports facilities.
66% of mums believe that a mixed primary school is better for their children's social development and confidence with the majority choosing a mixed gender school for their child. For the third of mums who send their child to a single sex school, they do so because they think their child will perform better in this environment.
73% of mums believe that 5 years is the ideal age for children to start primary school.
Just 12% of children are learning a third language in school, with Irish counted as the second language. The most popular additional languages are French and Spanish.
78% of mums are happy with the basic building, classroom and heating facilities at their child's primary school.
90% of mums rate their child's primary school teacher as very good or excellent.
Less than 10% of mums were unhappy with their child's teacher, of which, the principal cause of concern was that they are not inspiring their child to learn.
85% of mums are happy with their child's school's board of management, however those that are not happy hold grievances that they are always being asked for money and could do more for the school in general.
Just 1 in 10 children have had to change primary school during their 8 years, with bullying cited as the main reason for moving school.
3. Schooldays Worries
The top three worries for mums at back to school time are:
1. Social development – that they will not have enough friends in school.
2. Learning development – that the teacher will not have enough time to help to their child if they need it. Worryingly, just 13% of mums reported that their child's school has specialised enhanced learning and dyslexia support services.
3. Emotional development – that their child may be troubled and they won't open up to mum about their feelings. Linked to this, a little over half of all mums, worry that their child may become a victim of bullying during their primary school years.
40% of mums are worried about the number of pupils in their child's primary school class and how it may negatively impact on their education.
33% of mums are unhappy with the range of after-school activities offered by their child's primary school.
90% of mums are aware of the rise in obesity in young children and support their school's 'no junk food' lunch policy. Yet only a third of mums or 32% choose to walk their children to school every day, while 58% of mums drive their children to school.
A little over half of all mums, or 56%, worry that their child may become a victim of bullying during their primary school years. However somewhat reassuringly, 95% of mums reported that their child's primary school have an active anti-bullying policy in place. Just 3 in 10 mums had to take action in the last year and report bullying to their school principal, where the majority or 71% of mums were happy with the outcome.
54% of mums are concerned that their primary school child's schoolbag is too heavy for them to carry on their back, with a significant number opting for bags with wheels that they can drag along the path on the way to school.
80% of mums dread the expense of the primary school year birthday marathon. The cost of attending birthday parties is a financial worry for parents of young primary school children where the trend is to invite the whole class in the early years when friendships are just forming or school policy dictates that nobody is left out. Our mums reported being invited to at least 12 birthday parties per year with an average spend of €15 each time on gifts.
4. Technology and Learning
73% of mums rate their child's primary school's use of technology as very good to excellent, with the same number of mums believing that the use of technology in the classroom will enhance their child's overall learning experience.
Just 7% of mums reported that their school had introduced tablet or e-reader technology to the primary school classroom.
81% of the mums surveyed would not like to see technology replace traditional learning methods such as the use of text books. The key reasons for this comes down to:
1. Cost – 63% are anxious that an over reliance on technology in learning may require them to contribute financially to these costs at home or in school.
2. Ongoing Learning – 51% are worried that it would hinder their ability to learn from books as they progress through the education system and later on in life.
The majority or 73% of mums report that their child gets no more than an hour in homework and these mums think that this is a good level to encourage learning without placing too much pressure on the children. Our MummyPages mums report playing an active role in helping with homework, spending between 30 – 60 minutes to support their child at this time. The use of technology or the internet is required for a minimum of homework tasks.
Easing the Transition
Returning to school can be equally traumatic for both mum and child with 44% of MummyPages mums already worrying about how their child will settle into the school routine after summer holidays.
Our MummyPages mums have suggested a number of techniques to make the transition back to the school routine as smooth as possible:
 71% of mums start talking to their child about going back to school after the first week in August.
 66% of parents encourage their children to get up earlier and to get dressed before coming down to breakfast from mid-August.
 38% of parents organise a playdate with some of the children from the child's class if they haven't seen them over the summer holidays.
 45% of mums minimise screen time on television and digital or gaming devices and encourage more reading during the final couple of weeks before school starts.
 32% of mums practice elements of the school curriculum to help prepare them for the school year ahead.